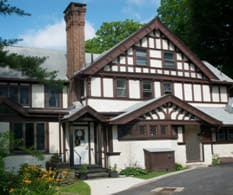 The Children's Center opened its doors in September 1971 beginning with only a handful of children in a donated space and a budget of only a few thousand dollars.  Since then, The Center has grown into a model of quality early childhood education serving over 100 children every year. In 1980, The Children's Center bought the large Tudor building on Aspetuck Avenue that was the home of our founder, Dr. Barbara Hamlin.  With nearly two acres of land, we were able to expand our building and programs without losing the warm feeling of the original home.  Our wonderful location allows us to have spacious playgrounds and puts us within a short walking distance of the town green.  Our children develop a deep sense of connection to the community through our many walking trips to the library, the senior center, Canterbury School, Young's Field, and local businesses. Our first programs were focused on preschool age children but soon grew to include an after-school program for kindergarteners, first, and second graders.  In 2003, we opened our infant/toddler program, and in 2011 we created our pre-kindergarten program for families who wished to give their children an extra year before entering the public school system.  Each of these expansions, which resulted from community and parental requests, has brought us to where we are today, serving children ranging in age from 3 months to eight years old.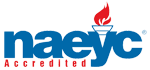 The Children's Center is proud of being the first state funded preschool in Connecticut to receive National Accreditation by NAEYC, the National Association for the Education of Young Children. Though it is challenging to achieve, The Children's Center has maintained its NAEYC accreditation since 1986, earning perfect scores on the ten NAEYC standards in our most recent NAEYC evaluation.  NAEYC programs are recognized for their commitment to excellence in early childcare education through providing a safe and healthy environment, well trained teachers, excellent teaching materials, and an appropriately challenging and developmentally sound curriculum. From our earliest days, we have believed that cost should not be an obstacle for a family that wishes to enroll their child in a quality early childhood program.  Our 501c3 Non-Profit status and our NAEYC Accreditation allow us to receive grants that fund a sliding fee scale permitting low and lower-middle income working parents to pay a significantly discounted tuition rate.
| | |
| --- | --- |
| View from Terrace Place | View from Aspetuck Avenue |
Through its deep roots in the community, dedication to developmentally appropriate learning and overall excellence, The Children's Center has provided a rich environment for children to grow and flourish for over four decades.